Know Before You Go
With Smarter Faster Payments 2023 less than one week away, we've compiled some of the most important information
to help you make the most of your time at the conference in Las Vegas.

1. MGM Grand Hotel
All educational sessions and networking activities will be held at the MGM Grand unless otherwise noted. Reference the conference website for things to do in Las Vegas, including restaurant and nightlife recommendations.
If you need to make a change to an existing reservation at the MGM Grand, please visit our website to update reservations or call Group Reservations at 702-692-6600.
Event Attire and Conference Venue
Dress for this conference is business casual. It is difficult to control the meeting room temperature to suit each individual's comfort level, and hotels and meeting space are heavily air-conditioned.
The MGM Grand is a large hotel, and the conference center is a 10–15 minute walk from the hotel rooms. Please bring comfortable shoes and make sure you schedule your time wisely to be on time for sessions and events.
2. Badge & Registration Information
You may pick up your conference materials at the Payments 2023 Registration Desk in the Grand Ballroom Foyer within the MGM Grand Las Vegas Convention Center.
Registration opens at 10:30 AM on Sunday, April 16. For complete Registration hours, click here.
Only full conference attendees have access to all educational sessions and events. Conference participants with green badge holders (Exhibit Hall Only and guests) are not permitted to attend concurrent educational sessions, the Spotlight Speaker Series or the Tuesday Luncheon Keynote.
Hold onto your badge! If lost, we will be assessing a $50 badge reprint fee.

Take advantage of Express Check-In Registration Counters
Minimize your wait time by utilizing our Express Check-In counters in the Registration area. Be on the lookout for an email from info@globalregsolutions.com with your scannable barcode. Whitelist this address in your email service to facilitate receipt. Bring this barcoded email, either in print or on your smartphone, to scan and be on your way.
3. Pick up the Conference Map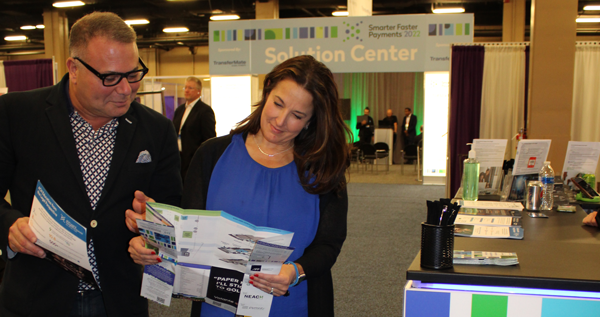 Sponsored by Volante Technologies
Don't forget to pick up a copy of the Conference Map at the Registration Desk. This resource includes the schedule at-a-glance as well as conference center and exhibit hall floor plans. Get more information on ways to win valuable Passport prizes while visiting the exhibit hall.
4. Connect Now 
Download the NEW Conference Mobile App
Sponsored by Modern Treasury
Use the Payments 2023 Mobile App to connect with fellow attendees, access session details and presentations, design your personal schedule, and explore the interactive exhibit hall map.
Please note we have changed our mobile app provider! If you have previously downloaded the Payments Mobile App you will need to delete it and download it again. Learn more and view helpful videos on how to use the conference mobile app.
Access Presentations
Presentation materials are available for download for 60 days after the conference via the Payments 2023 Mobile App. To download presentations from a specific session, locate and click on the detailed session description. Materials that Nacha does not have authorization to make available electronically are excluded.
Be Social 
Receive or post the latest information on what's happening at the event. Join the conversation and connect with us on Twitter, LinkedIn and Facebook. Be sure to use #Payments2023 and join the conversation.
Using our new mobile app allows you to connect with other attendees, speakers, exhibitors and sponsors! Scroll through the social feed to network, connect with other professionals in the attendee networking menu item and even participate in discussions during sessions. This video resource will show you around the app to ensure you are networking all week long! 
5. Explore and Meet in the Exhibit Hall
Don't wait in lines to meet with exhibitors, you can set up meetings now for April 17–18. Learn more about each exhibiting company and their offerings, plan your exhibit hall strategy and set up meetings with the exhibitors right in their booths.
6. Have Fun
Enjoy a variety of networking events open to all conference attendees. Badges are required for admittance to all conference events. If you plan to attend any networking events on Sunday—including Orientation, Sunday Social, AAP & APRP Reception (invitation only), or the Chairperson's Reception (invitation only)—you MUST collect your badge at the Nacha Registration Desk before 6:00 PM PT on Sunday, April 16.
Don't forget these Networking Events on Sunday
Orientation & Coffee Reception
Sunday, April 16, 11:00 AM-12:00 PM
Location: Room 150
Consider this your conference 101 session! Whether you are a new attendee or a Payments returner, this orientation is the perfect way to plan your ultimate experience. 
Sunday Social
Sunday, April 16, 5:30-7:00 PM
Location: Level Up
All are welcome at this no-host event. The Sunday Social brings together participants looking for a casual gathering and networking opportunity.
Have a guest? We have guest tickets available for both the Monday and Tuesday evening networking events. Stop by the Nacha Registration Desk to purchase. 
---
PRIVACY POLICY
Your privacy is important to us. Nacha does not directly share your email address with exhibitors and sponsors. As a registrant of the Payments Conference, you may receive emails from exhibitors and sponsors in advance of the conference, however, Nacha uses a secure third-party provider to send these messages on the exhibitor's or sponsor's behalf. You are able to change your email preferences for Payments 2022 at any time by visiting https://payments.nacha.org/attendee-privacy-form and submitting the form. Please note: exhibitors and sponsors will have access to your email address (and other profile information) if you allow them to scan your badge at the Payments Conference. To learn more about Nacha's privacy policies, please visit https://www.nacha.org/content/legal-information.
We look forward to seeing you in Las Vegas! Contact us with any questions.
Nacha Payments Staff
(800) 487-9180
meetings@nacha.org