The Payments Connection Pay-Me Awards
The Payments Connection returns with an exclusive movie premiere theme as four leading-edge fintech payment providers, each nominated in a Best Picture Pay-Me Award category, entertain and engage with the audience. Attendees are treated to 7-minute videos, showcasing leading products and services changing the payments industry. The program allows the audience to get a first-hand look at the up-and-coming solutions that are leading the payments industry. Audience members will be asked to use the mobile app to participate in the fun and are eligible to win prizes for their active engagement. You won't want to miss a second of this exciting session! 
---

---

Smarter Faster Payments Zone
Focus on smarter and faster in the Zone. Events in this area include targeted education sessions showcasing advancements in the world of smarter and faster payments.
---

Executive Series
If you are a senior executive, you don't want to miss sessions identified as philosophical discussions on critical topics.
---
Spotlight Speaker Series
Listen to presentations from notable subject matter professionals speaking on top-of-mind topics.
---

Topical Talks
Participate in these popular intimate discussion groups that enable lively dialogue and debate on today's hottest payments topics.
And there's more education in the hall…
Take advantage of education areas in the exhibit hall to learn more about today's financial technology products and solutions peaking your interest. Or see what it takes to take the next step in your career as a payments professional.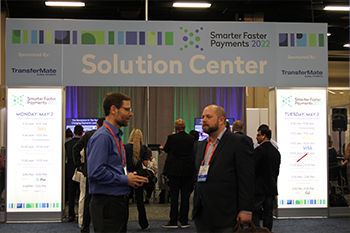 Solution Center
Do you have a problem that needs a solution? The newly branded Solution Center will host demonstrations of solutions, technology, and products of interest.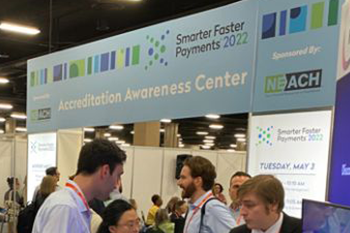 Accreditation Awareness Center
The Accreditation Awareness Center features sessions designed to provide a glimpse into what AAP or APRP candidates might expect to learn when preparing for the AAP or APRP exams. These sessions introduce concepts that tie directly to the AAP or APRP blueprint areas and serve as a foundation for further training while on the path to successfully passing the exam. Attendees learn about other industry certifications, how to maintain the AAP and APRP credentials after passing the exam, and further education offerings, including Nacha's TPI On Campus, TPI Home School, or training opportunities presented by the Payments Associations.