Receive premier education and interact with the industry
The Payments conference is an annual experience where new and seasoned professionals come to learn and engage in conversations about the latest trends in the industry, and shape the future of the industry. Your attendee experience includes focused educational session tracks, a dynamic exhibit hall featuring trending solution providers, and a variety of ways to connect with fellow attendees.
The Call for Presentations for the 2021 Smarter Faster Payments Conference is now open.
Reach Customers Virtually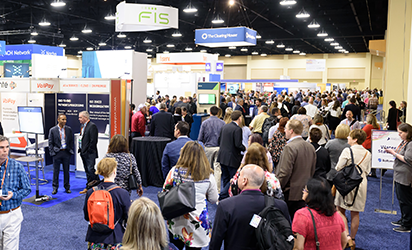 We also know that you still need to get your products and services in front of the right audiences. And Nacha has many virtual opportunities to help you do that. Contact Holly Price for more information.
A Message from Scott Klososky
In the video message above, Klososky shares that he will be with us next year for Payments 2021 in San Francisco. Until then he wanted to share a top 10 list of things leaders need to do to help workers at home.
About Payments
Technology and information are making payments smarter and faster. New capabilities are enhancing the user experience, enriching decision making, and instilling greater security. Smarter Faster Payments is a unique industry venue designed for diverse organizations that are driving innovation, delivering value through new solutions and services, and employing these offerings to meet their business needs and transact with their customers.